Steve's Debut Solo CD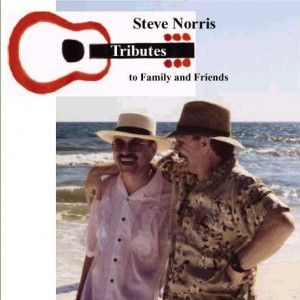 Main Entry: trib.ute
Pronunciation: 'tri-(")byüt, -by&t2 a : something given or contributed voluntarily as due or deserved; especially: a gift or service showing respect, gratitude, or affection.
This project started as a learning experience to learn about recording and all the elements involved in putting together a CD.
Hopefully this helped to make


CD a success. I will consider this project a success if I sell enough CDs to break even.
Underlined song titles have a short sound byte in mp3 format that can be heard with most audio players such as Windows Media Player, Winamp, MusicMatch or iTunes.
The songs on the CD…….
1. Me 
And Bobby McGee (Kris Kristofferson – Fred Foster)
Ron suggested I learn this song from John Buck Wilkin's LP in 1970.
It's one of the first songs I learned on guitar and was a favorite long before Janis Joplin made it famous. This is for Ron. I miss you Bro'. The first time Judy heard this CD version, she said, "You're singing Ron's part" when she heard the background vocal on the chorus. I guess so. Just another example of what can happen when you put things off for too long.
2. You're Gonna Make Me Lonesome When You Go (Bob Dylan)
Longtime friend Dave Lowe is the biggest Bob Dylan fan I know. Not really in Bob Dylan style, but this is for Dave.Dave has always been one of my biggest supporters. He used to show up for Robyn and The Journeyman Geezers and he shows up at a lot of gigs by

. And most importantly, he has always been my friend. I wish I knew the right words to thank Dave for being such a long term, consistant, wonderful friend.
3. Love In Vain (Robert Johnson)
Whenever there's a pickin' party, Kaye always asks me to sing this one. I Love You, Sis.When I recorded this one, I re-recorded it, then I re-re-recorded it, then I re-re-re-recorded it…. I never did get it right. But I still love you, Kaye.
4. Bar-B-Que (Rick and Jilda Watson – Steve Norris)
Recorded live on The Old Time Country Radio Show from The B.B.Q. Caboose in Lynchburg, TN. This is for Rick and Jilda, my partners in

.The Old Time Country Radio Show has it's own webste at www.TOTCRS.com And also please visit www.TheOveralls.com
5. All My Loving (Lennon – McCartney)
For my sweetheart. I Love You, Judy.Judy and I have been together for over a year now. Why the heck did she let me record this CD?
6. Walls Of Memories (Lamar Morris)
If you want to hear this song done right, get Lamar's CD, Walls Of Memories from Barrister Records. This song is my tribute to Lamar Morris and Wes Laird, two great guys in LA (Lower Alabama).Look up "wonderful" in the dictionary and you'll see a group picture of Lamar, Kathy, Wes and Deidre.
7. Bears (Steven Fromholz)
For Don Payne. Don is one of the guys I've ever worked for! What a disappointment
this man turned out to be!!
8. Head Over Heels (Randy Turner)
Randy and Louise have been very dear friends since before Rachel was born. Randy wrote this song, plays lead guitar and sings the last verse. This is for The Turners. I'm Head Over Heels for y'all.Randy has written several good songs. We used to do them together as Robyn and The Journeyman Geezers. We're still just "Journeyman" Geezers. <G>
9. Poochie Woochie (Ervin and Steve Norris)
The only time I ever remember hearing Daddy sing was when he had a baby in his lap as he rocked in a rocking chair. He would sing this chorus of made up words over and over and over. I guess you could say it was Daddy's lullaby. Ron used to say it was to the tune of Curly Headed Baby, but this is the way I remember it. Poochie Woochie is for all the Norris family, but especially for Charlene, Larry, Ronnie, Cassandra… and the grandkids.Is there anything in your past you wish you could just magically erase? You know, like that second voice in the second chorus of Poochie Woochie? Yeah. Me too!
10. Postmarked Birmingham (Don Sampson – Phil Vassar)
This is for Becky and all of my Birmingham area friends. "Birmingham area friends" includes anyone that has ever heard of Birmingham. It's kind of like the qualifications to become a Sam's Club Member. (I don't want to leave anyone out.)
11. Wake-up Call (Judy Daussman – Steve Norris)
We started this song after the Oct. 11, 2000 wake-up call and finished it for this CD. We have time for the things we really want to do!All I'm saying is that if you have things you REALLY want to do, you find the time to do them. Otherwise, I guess you just thought you wanted to do them.
12. Mississippi, You're On My Mind (Jesse Winchester)
I've been a Jesse Winchester fan since his first LP and had to include one of his songs. This one is appropriate, since Daddy grew up in Mississippi.Go to www.JesseWinchester.com and check out his webpage, then go to Amazon.com or your favorite music store and buy one of his CDs. Listen, enjoy. Then thank Steve for telling you about this guy!
All songs recorded on a Roland VS-880EX at N Da Basement Studio except for Bar-B-Que, taken from The Old Time Country Radio Show with thanks to Paul & Marilyn Jones, Ken & Sam Fly, and Sound Engineer Reese Kimmons.
Produced by Steve Norris – Nifty Productions and Trucking Company
Steve Norris – Taylor 910 Acoustic Guitar, Taylor
355 12-string Acoustic Guitar, Vocals
Rick Watson – Taylor 420 Acoustic Guitar and background vocals on Bar-B-Que
Jilda Watson – Background vocals on Bar-B-Que
Randy Turner – Fender 12-string Acoustic Guitar and vocals on Head Over Heels