The latest CD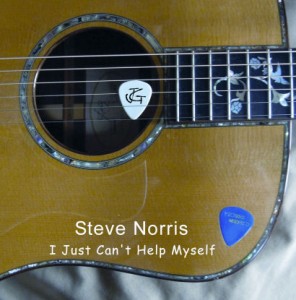 THANKS for your support!!
Yep, been awhile. I first started promising myself this CD about 4 years ago… maybe longer! But it really wasn't time. There were songs to be written, artists to discover, and heck… I needed to practice!! Well, that and I finally got a round tuit.

So now it's FINALLY completed! I hope you find some tunes you like!
The songs on the CD:
Friends Back Home – Steve Norris
Yes, I did camp out just outside of Memphis.

– Steve Norris…lead vocals, acoustic guitar
– Marc Navez…bass
– Dan Farmer…mandolin
– Tommy Young…percussion

All Those Years Ago – Steve Norris


Never would have happened without encouragement from Brenda McAteer. For Tuscaloosa County High School Class of 1970.
– Steve Norris…lead vocals, acoustic guitar
– Marc Navez…bass
– Dan Farmer…mandolin
– Melody Jane Musick…clarinet
– Janet Hall O'Neil…backing vocals
Pot of Gold – Robby Hecht
Stole this from Robby Hecht during a Small
Stages Show.
– Steve Norris…lead vocals, acoustic guitar
– Marc Navez…bass
– Tommy Young…percussion
– Judy Daussman…backing vocals
Dixie Breezes – Michael Reno Harrell
This song and Michael Reno Harrell are crowd pleasers!
– Steve Norris…lead vocals, acoustic guitar
– Marc Navez…bass
– Kent Peterson…electric guitar
– Dan Farmer…mandolin
– Tommy Young…mandolin, percussion
– Janet Hall O'Neil…backing vocals
Room for You – Dan Farmer
Dan Farmer's BEST song!
– Steve Norris…lead vocals, acoustic guitar
– Marc Navez…bass
– Dan Farmer…mandolin
– Tommy Young…percussion (Blue Mountain Shaker*)
– Janet Hall O'Neil…backing vocals

25 Years – Steve Norris


I love you, Judy!
– Steve Norris…lead vocals, acoustic guitar
– Marc Navez…bass
– Tommy Young…percussion (Blue Mountain Shaker*)

I Just Can't Help Myself – Gary Greene


Stole this song from a pickin' buddy. I sure miss him.
– Steve Norris…lead vocals, acoustic guitar
– Marc Navez…bass
– Tommy Young…percussion (Blue Mountain Shaker*)
– Gary Greene…acoustic finger pickin'

The Important Part of Fishin' – Tim Bays


Philip Eggers introduced me to this song! See his cool CBGs at www.CigTone.com
– Steve Norris…lead vocals, acoustic guitar, backing oohs
– Marc Navez…bass
– Kent Peterson…electric guitar
– Dan Farmer…mandolin
– Tommy Young…percussion
– Janet Hall O'Neil…backing oohs

Simple Song – Hugh Thomas


I told Hugh that I wanted to include songs written by friends. What a talented friend!!
– Steve Norris…lead vocals, acoustic guitar
– Marc Navez…bass
– Tommy Young…percussion (Blue Mountain Shaker*)

You Make Me Smile – Judy Daussman, Steve Norris


You make me smile!
– Steve Norris…lead vocals, acoustic guitar
– Marc Navez…bass
– Joe Casey…acoustic guitar
– Tommy Young…percussion
– Judy Daussman…backing vocals
American Dream – Steve Norris
Written for Dan Hinson.
– Steve Norris…lead vocals, acoustic guitar
– Marc Navez…bass
– Kent Peterson…electric guitar
– Tommy Young…percussion

I Just Can't Help Myself REPRISE – Gary Greene


From a recording of Gary so I could learn his song.
– Gary Greene…lead vocals, acoustic finger pickin'
*Blue Mountain Shaker – special shaker made with sand from Blue Mountain Beach, FL
Mixed and mastered by CatHouse Recording Studio – Tommy TomCat Young… engineer
A huge THANK YOU to Judy Daussman, Janet Hall O'Neil, Melody Jane Musick, Tommy Young,
Kent Peterson, Marc Navez, Dan Farmer and Joe Casey
DEDICATED TO GARY GREENE (1954-2010)
Gary was recorded in Wayne Messick's office during a Pickin' & Grinnin' session
Copyright © 2012 Steve Norris All Rights Reserved
Another Nifty Production from Nifty Productions
and Trucking Company